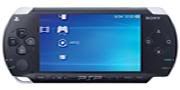 It was big news in the days running up to CES, but now Sony is distancing itself from plans to bring the joys of Skype to the PSP.
It was due to launch tomorrow, but now the service has been suspended, apparently down to the failure of Sony's microphone products not meeting Skype's specifications.
In the week prior to this month's gadget-a-thon in Las Vegas, this story had everyone buzzing, with Sony even dropping the news on their official site before we all got to CES.
There's no word on when it'll be seeing the light of day, but we're willing to bet it's going to be a while yet.
Be sure to keep it here for any news as soon as I get it.