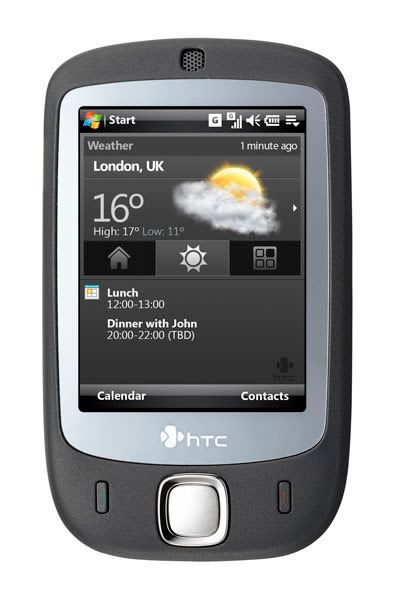 Owing to huge customer demand, the world's leading manufacturer of Windows Mobile-based smart devices, HTC, has announced the next evolution in the hugely-successful HTC Touch series - the HTC Touch Dual.
The HTC Touch Dual combines the popular TouchFLO touch-screen interface from the HTC Touch with a full slide-out QWERTY keyboard for the added convenience.
"It's everything you need at your fingertips," says Quinton Leigh, managing director of Leaf International Communications, HTC's official distributor in South Africa.
The HTC Touch Dual's 20-key slide-out QWERTY keyboard makes it easier for users to type messages or e-mails single handed - without the need to use a stylus for input.
"However," Leigh says, "the HTC Touch Dual also offers users an enhanced touch navigation experience, using HTC's updated Touch-FLO technology. With the Touch Dual, you can now flip through emails and SMS messages, as well as being able to rotate and zoom in and out of photos.
"HTC has also added a two touch compatible quick menus; one when you slide the device open and another when you hold the end call (red) button, to further enhance the phones user-friendliness," says Leigh.
The Menu system itself is designed to resemble a 3D cube, allowing users to "flip" the cube to reveal different menu options - such as photo dialling, Internet, multimedia, calendar and tasks - on each side.
"Consider the HTC Touch Dual the best of both worlds. HTC took in a lot of customer feedback about the HTC Touch and the results speak for themselves," Leigh says.
Other features of the HTC Touch Dual include the Live HTC Home screen, which features easily-accessible applications such as time and date, new messages, missed calls and live weather conditions.
3G, HSDPA and GPRS/Edge/GSM ensure that no matter where in the world users find themselves, they'll be able to connect to a network and stay in touch.
"The HTC Touch Dual is a worthy replacement for the HTC Touch," Leigh says, "and we're very excited to be able to give customers exactly what they have asked for in a smart mobile device."
The new HTC Touch Dual will be available through the cellular networks and at retail outlets from the beginning of Feb and will sell for a recommended retail price of R5 800.00 Incl VAT.