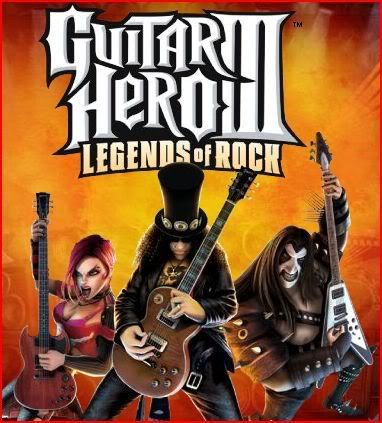 Megarom Interactive (Pty) Ltd, announced that it will be releasing Guitar Hero 3: Legends of Rock on PC for the first time in March 2008.
Crank Up the Volume and prepare to rock with Guitar Hero III: Legends of Rock. Battle against some of the greatest guitar legends to ever shred on a guitar and become one yourself. Take your shredding skills online against other Guitar Hero players from around the world. Grab your Guitar Hero Controller and unleash your inner rock legend.
"Welcome to the jungle, we got fun n' games !"
"The lyrics from the Guns N'Roses' hit "Welcome to the Jungle" summed up perfectly the Guitar Hero concept. The biggest critic and commercial success of 2006 comes in a third opus called Legends of Rocks.
You can play the guitar components of some of the greatest songs that have marked the history of rock music over the past two decades: "Paint it Black" (Rolling Stones), "One" (Metallica), "Anarchy in the UK "(Sex Pistols)," Kool Thing "(Sonic Youth) and a ton of features and surprises."
A total dive in the universe where you'll be able to wake up the rock guitarist in you! With the new wireless Gibson guitars, take the stage and rock the audience with your solos. Compete with legendary guitarists like Slash (Guns'n Roses) and Tom Morello (Rage Against The Machine), and accompany mythical singers like Bret Michaels (Poison). Experience concerts and tours which will change your life !
Guitar Hero 3 Bundle (which includes the guitar) will also be available on Xbox 360, Playstation 3, Nintendo Wii and Playstation 2 in March 2008.