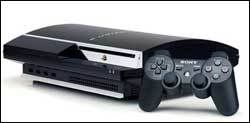 The revolution has started… Following widespread speculation, Ster-Kinekor Games has just announced that Sony's PLAYSTATION®3 home entertainment-console (PS3) will be on sale in South Africa from 23 March 2007 – in conjunction with the console's launches in the UK and Australasia. An expected one million PS3 units will be made available during the initial launch period.
PS3 is one of the most highly anticipated & sophisticated home entertainment systems to hit the international gaming market. Its features are the first of its kind and also revolutionize features usually associated with gaming consoles. Launching in a sleek black casing designed to enhance the contemporary home entertainment-lifestyle, the PS3 enables games & multimedia to be viewed & experienced in an unparalleled High-Definition environment with top-end audiovisual potential through BlueRay DVD. The system's revolutionary sensor-sensitive Sixaxis controller can connect up to 7 gamers wirelessly via advanced Bluetooth technology.
Apart from being able to play games with the BlueRay DVD system – the next generation of DVD created for High-Definition (HD) TV systems – the PS3 also acts as a standalone high-end BlueRay DVD player (with a 60GB harddrive), provides storage space for personal photos, videos & music, has more speed than the best PC available commercially and also links to the Internet for downloads & gaming interaction.
A stellar launch line-up of game titles has been confirmed for PS3, including eagerly awaited titles published by Sony Computer Entertainment such as Resistance: Fall of Man™, MotorStorm™, Genji™: Days of the Blade, FORMULA ONE CHAMPIONSHIP EDITION and Ridge Racer™ 7. An exceptional range of titles in every genre will also be available at launch from the world's leading third party publishers, including Electronic Arts, Activision, Namco Bandai, Sega, Take 2, Ubisoft, Vivendi Universal, and Sony Online Entertainment.
In addition to games on disc, an exciting range of fully-featured downloadable games will debut on the PLAYSTATION®Network. These will include gaming icons such as Tekken®: Dark Resurrection and Gran Turismo® HD Concept; the fully-featured PS3 debut of the best-selling franchise Gran Turismo, realised with full HD (1080p) visual quality. Created by Polyphony Digital Inc and published by Sony Computer Entertainment, Gran Turismo® HD Concept has been downloaded by more than 350 000 users since it was released in December 2006 in North America and Japan.
Also available on the PLAYSTATION®Network will be brainteasers such as Go! Sudoku and Go! Puzzle, and innovative games such as Blast Factor™ and flOw™, designed exclusively for PLAYSTATION 3 and delivering on the promise to provide original content created by non-traditional developers and publishers.
Selected Sony movie titles are already available in the BlueRay DVD-format. This format is expected to be the preferred format for delivering media in the future. BD-ROM (Blu-ray Disc ROM) has a maximum storage capacity of 54GB (dual layer) which stores 77 times more information than a CD and six times more than a double layered DVD, which means it can hold over 50 000 high resolution photographs, 15 000 music tracks, store full High-Definition movies and games, enabling delivery of entertainment content in full High-Definition (HD) quality, under a secure environment made possible through the most advanced copyright protection technology.
PS3's console design, features and general iconic status again signals progression in terms of the PlayStation brand's legendary penchant for stylish, sexy, cutting-edge product design. PS1, PS2 and PSP games (linked via the PSP console) are compatible with PS3.
Responding to a major retail and consumer demand, it has been confirmed that initially only the 60GB model would be available, with the 20GB model to follow later in the year dependant on demand.
Concurrent with the launch, a new System Update to further enhance the entertainment potential of PS3 will be issued.