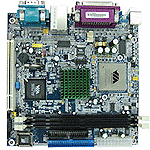 VIA Technologies, Inc, a leading innovator and developer of silicon chip technologies and PC platform solutions, today announced the VIA EPIA EX-Series Mini-ITX mainboards, the first of VIA's compact platforms to feature the new VIA CX700M2 system media processor. Powered by the highly efficient 1.5GHz or fanless 1.0GHz VIA C7® processor, the VIA EPIA EX has an average operating power consumption of just 13.6 watts.

Specifically designed for the fast-growing x86-based consumer electronics market, the VIA EPIA EX mainboard features full consumer I/O, including ports for composite, component and S-Video, S/PDIF audio, and onboard connectors for LVDS and DVI displays, with USB2.0 and IEEE1394 peripheral connectivity, full featured SATA II RAID, and 10/100Mbps Fast Ethernet for seamless broadband connectivity, with a Gigabit Ethernet option.

The VIA EPIA EX also boasts the VIA CX700M2 advanced system media processor, an all-in-one digital media IGP chipset integrating the VIA UniChrome™ Pro II 2D/3D graphics core and an extended array of high end video and audio technologies, including hardware decoding acceleration of MPEG-2/-4 and WMV9 video, a built-in HDTV encoder up to 1080i, 720p output, and VIA Vinyl Multi-channel HD audio for a richer listening experience.

"We see the consumer electronics market increasingly adopting the x86 platform for the extra performance and comprehensive compatibility with all popular media formats, and the fully integrated, off the shelf VIA EPIA EX fills this need perfectly," said Daniel Wu, Assistant Vice President, VIA Platform Solutions Division, VIA Technologies, Inc. "Leveraging the power efficient VIA processors and the extensive feature set of the VIA CX700M2 media system processor, the VIA EPIA EX speaks directly to the demands of CE developers."

Combining such a range of leading-edge features and the richly integrated VIA silicon platform onto an ultra compact mainboard reduces the need for add-in cards and compatibility testing, greatly reducing time to market and significantly lowering the total cost of development for SIs and OEMs.

The VIA EPIA EX mainboard will be on show at the Lunch@Piero's press event from Jan 8-9 during CES 2007.

More details about the VIA EPIA EX-series Mini-ITX mainboard may be found on the VIA website, while information on the VIA CX700M system media processor can be found here.